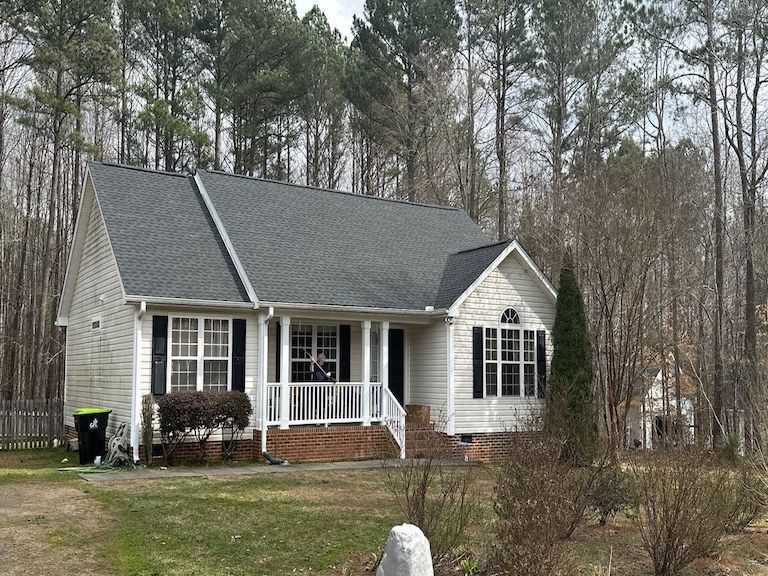 Location: Creedmoor, NC
Product: GAF Timberline HDZ Charcoal Shingles, GAF WeatherBlocker, GAF Seal-A-Ridge, GAF RigidVent3,  GAF Master Shield Lifetime Warranty.
Installed in: 2 days
When the homeowner of this rental property discovered some missing shingles on the 15-year-old roof, they knew it was time to take action. But with renters living in the home, they needed a solution that would be both quick and easy. That's when they turned to The Shingle Master Team, who helped guide them through the process of filing an insurance claim. Thanks to The Shingle Master's expertise, the claim was approved in just two weeks, and the team wasted no time in scheduling a build to start.
Throughout the entire process, The Shingle Master made sure to keep the renters informed and comfortable, ensuring that they felt secure and confident in their living situation. In the end, the homeowner was thrilled with the seamless process, and the renters were left with a brand-new roof that they could rely on for years to come.
"Lorem ipsum dolor sit amet consectetur adipiscing elit urna, pulvinar sociosqu platea sociis volutpat facilisi magna tempus lectus, tortor gravida ultricies class iaculis mollis vehicula. Mattis vivamus placerat egestas."
– John Doe