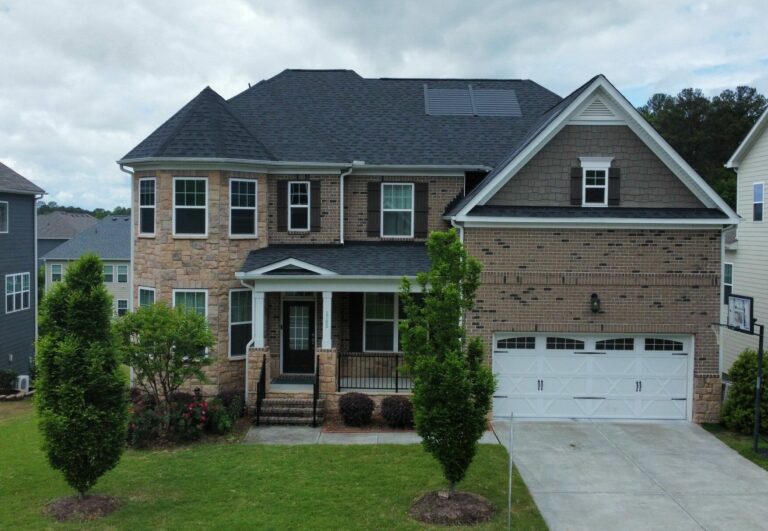 Location: Cary, NC
Product: GAF Charcoal Timberline Solar HD, GAF Seal-A-Ridge, GAF Feltbuster, GAF WeatherWatch, GAF Cobra RigidVent3, GAF WeatherBlocker
Step into the future of sustainable living with our recent full roof replacement project in Cary, NC! We proudly installed a cutting-edge roofing system, complete with revolutionary GAF Solar HD Shingles, taking solar energy to new heights. Imagine harnessing the power of the sun to generate clean, renewable energy right from your rooftop!
Now imagine being able to make the move to solar – while also getting a new roof installed and only paying your insurance deductible. We really have found a way to make your roof pay for itself – and this Cary homeowner couldn't be happier!
"When the GAF inspector turned on our solar shingles switch, we were thrilled to see our whole house did not draw power from the electric grid but instead sent solar power into the grid. Big shoutout to Harrison at the Shingle Master! He told us about the option of solar shingles while planning our roof replacement. He patiently educated us on the benefit of solar shingles and showed different scenarios for us to make informed decisions. He kept us updated on the important milestones and was extremely responsive when we had questions to make sure our concerns were addressed promptly. We love our new roof and curb view of the solar shingles. We are proud that we are doing something so that fossil fuel does not become extinct for future generations. Thanks the Shingle Master for helping us!"
"Lorem ipsum dolor sit amet consectetur adipiscing elit urna, pulvinar sociosqu platea sociis volutpat facilisi magna tempus lectus, tortor gravida ultricies class iaculis mollis vehicula. Mattis vivamus placerat egestas."
– John Doe