All the roofs in this mixed single home and townhome community were old and needed replacement. This is one of six projects that we're replacing in the neighborhood.
Location: Cary, NC
Product: GAF Timberline HDZ Architectural Shingles (Weathered Wood)
Installed in: 15 weeks
The Shingle Master team will install roofing in these zones along the following schedule, with each building taking approximately 2-4 days to complete. Please note, dates are subject to shift depending on weather. Make sure to check back here for regular updates.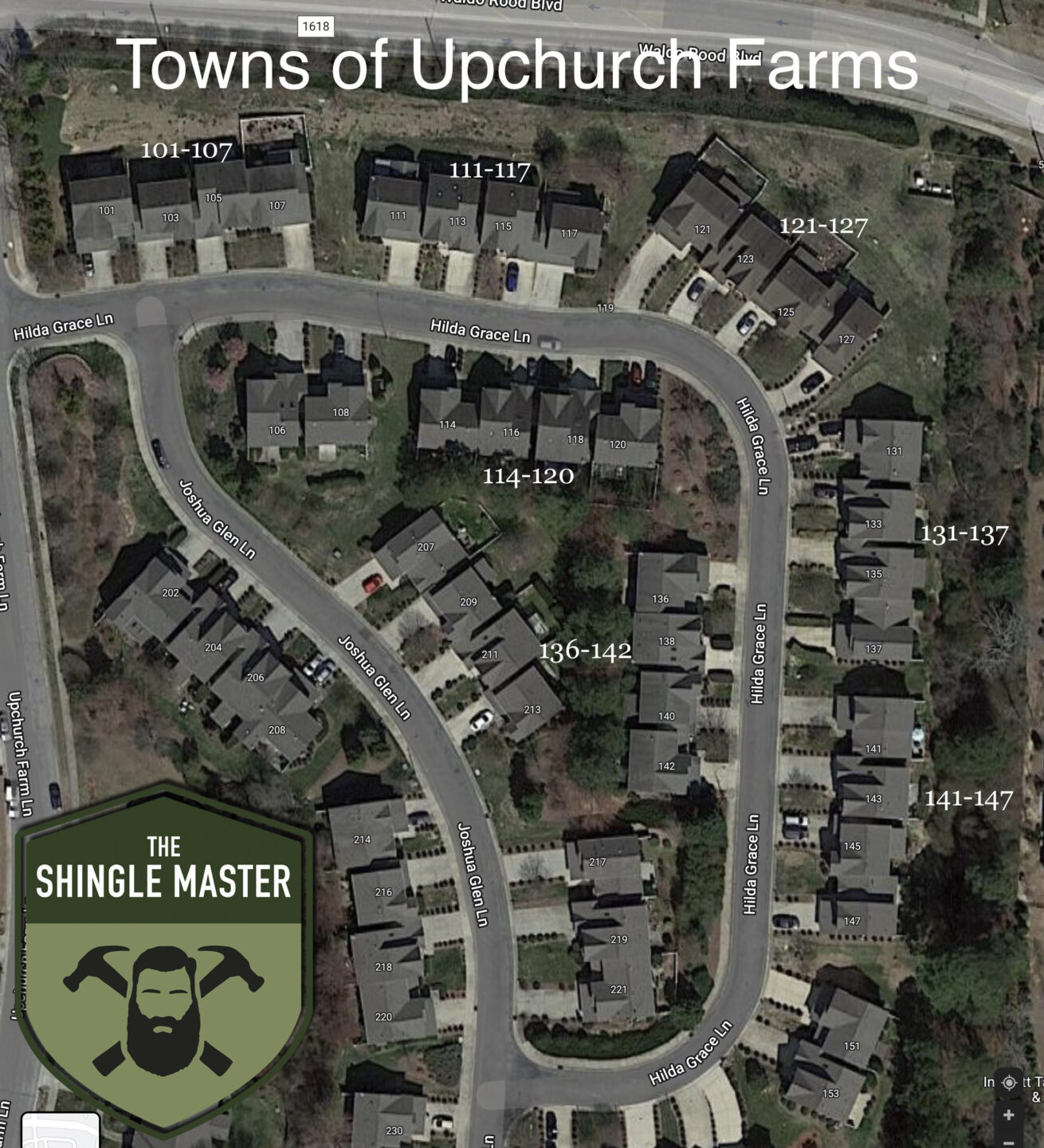 | | |
| --- | --- |
| 101 Hilda Grace | May 2 |
| 103 Hilda Grace | May 3 |
| 105 Hilda Grace | May 4 |
| 107 Hilda Grace | May 5 |
| 111 Hilda Grace | May 5-6 |
| 113 Hilda Grace | May 6-9 |
| 115 Hilda Grace | May 9 |
| 117 Hilda Grace | May 10 |
| 114 Hilda Grace | May 10-11 |
| 116 Hilda Grace | May 12 |
| 118 Hilda Grace | May 16 |
| 120 Hilda Grace | May 16-17 |
| 121 Hilda Grace | May 17 |
| 123 Hilda Grace | May 18 |
| 125 Hilda Grace | May 20 |
| 127 Hilda Grace | May 23 |
| 131 Hilda Grace | May 26 |
| 133 Hilda Grace | May 31 |
| 135 Hilda Grace | May 31 - June 1 |
| 137 Hilda Grace | June 1 |
| 136 Hilda Grace | June 2 |
| 138 Hilda Grace | June 2-3 |
| 140 Hilda Grace | June 3 |
| 142 Hilda Grace | June 6 |
| 141 Hilda Grace | June 6-7 |
| 143 Hilda Grace | June 7 |
| 145 Hilda Grace | June 8 |
| 147 Hilda Grace | June 9 |
FREQUENTLY ASKED QUESTIONS
SEE HOW IT'S GOING IN YOUR NEIGHBORHOOD