Camden Crossing – Raleigh
We were called by the Camden Crossing HOA to inspect a leak and found storm damage. Upon completion of our inspection, we helped file the claim, met with the insurance adjustor, and helped get the claim approved. We installed a new roof on 16 buildings in this luxurious, multi-unit townhome community in Raleigh. The out-of-pocket cost for the HOA was only $5,000 saving them over $400,000 from their maintenance budget. 
Location: Raleigh, NC
Product: GAF Timberline HDZ Shingle (Charcoal)
Installed in: 7 weeks
The Shingle Master team is here to help make your roofing project run as smooth as possible. Your dedicated Project Manager will keep you abreast of all communication from start to finish.
We will be installing roofing in these zones along the following schedule, with each building taking approximately 3 days to complete. Please note, dates are subject to shift depending on weather. Make sure to check back here for regular updates.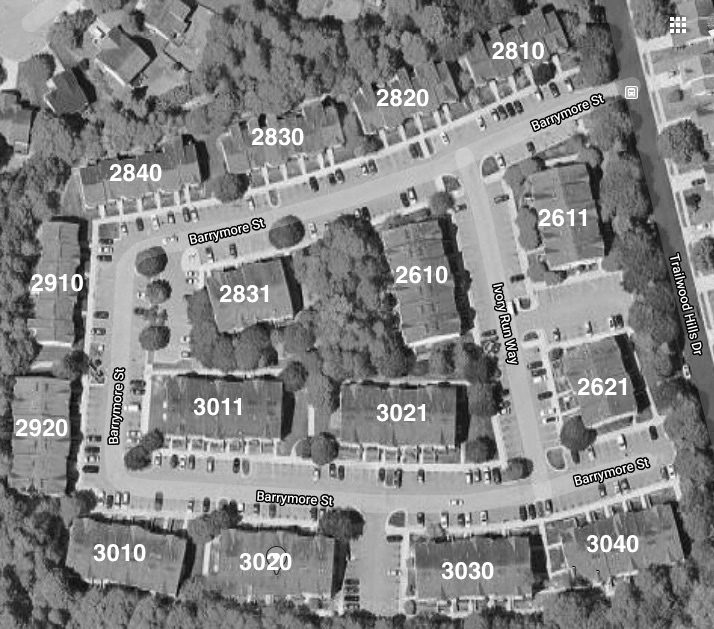 | | | |
| --- | --- | --- |
| 3010 | Barrymore | Sept 8-9 |
| 3020 | Barrymore | Sept 12-15 |
| 3030 | Barrymore | Sept 16-18 |
| 3040 | Barrymore | Sept 21-22 |
| 2920 | Barrymore | Sept 23-24 |
| 2910 | Barrymore | Sept 28-29 |
| 2840 | Barrymore | Oct 1-2 |
| 2830 | Barrymore | Oct 3-5 |
| 2820 | Barrymore | Oct 6-8 |
| 2810 | Barrymore | Oct 9-13 |
| 2611 | Ivory Run | Oct 14-16 |
| 2621 | Ivory Run | Oct 17-19 |
| 2831 | Barrymore | Oct 20-21 |
| 2610 | Ivory Run | Oct 22-24 |
| 3021 | Barrymore | Oct 26-28 |
| 3011 | Barrymore | Oct 29-31 |
FREQUENTLY ASKED QUESTIONS
SEE HOW IT'S GOING IN YOUR NEIGHBORHOOD