Glens of Riverside – Raleigh
The Glens of Riverside community only had partial insurance approval, but after working with their insurance company, we helped get them full approval. We replaced the roofs on all 104 units with an out-of-pocket cost to the HOA of only $10,000 saving them $350,000 in their maintenance budget.
Location: Raleigh, NC
Product: GAF Natural Shadow Architectural Shingles (Charcoal)
Installed in: 6 weeks
The Shingle Master team will install roofing in these zones along the following schedule, with each building taking approximately 1-2 days to complete. Please note, dates are subject to shift depending on weather. Make sure to check back here for regular updates.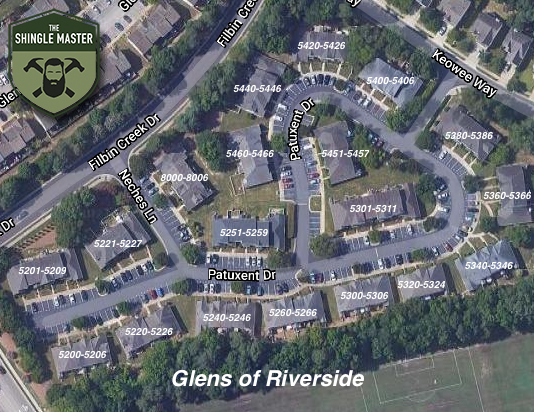 | | |
| --- | --- |
| 5200-5206 Patuxent | April 5-6 |
| 5220-5226 Patuxent | April 6-7 |
| 5201-5209 Patuxent | April 9-12 |
| 5221-5227 Patuxent | April 12-13 |
| 8000-8006 Neches | April 14-15 |
| 5251-5259 Patuxent | April 16-17 |
| 5240-5246 Patuxent | April 19-20 |
| 5260-5266 Patuxent | April 21-22 |
| 5300-5306 Patuxent | April 22-23 |
| 5320-5324 Patuxent | April 26-26 |
| 5301-5311 Patuxent | April 27-28 |
| 5340-5346 Patuxent | April 28-29 |
| 5360-5366 Patuxent | May 4 |
| 5380-5386 Patuxent | May 5 |
| 5400-5406 Patuxent | May 11-13 |
| 5420-5426 Patuxent | May 14-17 |
| 5440-5446 Patuxent | May 18-19 |
| 5460-5466 Patuxent | May 20-21 |
| 5451-5457 Patuxent | May 23 |
FREQUENTLY ASKED QUESTIONS
SEE HOW IT'S GOING IN YOUR NEIGHBORHOOD